Written by Kaluki Paul Mutuku
THE HUMMINGBIRD IN ME
"We cannot afford to go back to "normal" systems that were before this pandemic, based and rooted in historical, environmental, social, and political injustices."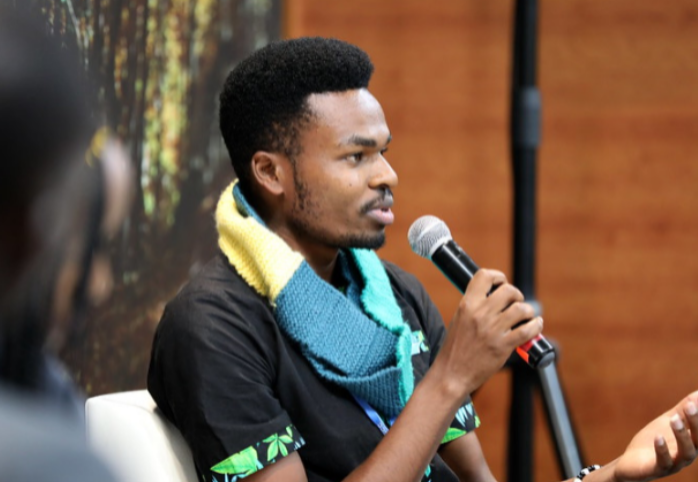 Hello, Hola, Habari,
My name is Kaluki Paul Mutuku, a climate activist & environmental defender from Kenya (the land of Hakuna Matata).
As a son of the African soil, I grew up in the Kenyan countryside, a place called Machakos. Village life was, to me, a great way to connect with other children, with nature, and to play with insects. The forest and hilly landscapes were so real and serene. It was a land of bounty, a beauty to fall in love with. I really loved nature, which made me love growing trees with my family.
Now, most of the beautiful landscapes are seldom there. Villagers have cleared forests for settling, timber, and charcoal; wildlife starved to death, and people care less anyway. Activism and local on-ground projects are helping us change this sad story. Together, the youth have set up tree nurseries, with the help of a few elders. This has helped restore the forests and bring back water to the rivers. I have also been training my rural family and villagers on organic farming to help with healthy diets, soil care, and support biodiversity.
Such simple actions are helping restore our landscapes. Nature is healing, skies are clear, and neighborhoods are more connected in silence. People are setting up kitchen gardens, the evils of capitalism are being exposed, one by one. Nature is giving us hope of a brighter tomorrow
On a pre-COVID-19 calendar, I would be teaching groups about tree growing and the importance of nature-based solutions. Or I would work on organizing physical forums to engage people about what actions communities can take to halt the climate crisis.
But here I am, locked in the house, and not really going to the natural places I would otherwise be at under different circumstances. Except that has not stopped my action for Nature. Utilizing digital tools closer to me, I have been engaging through online platforms almost 80% of the time. I have decided to use this time in lockdown to participate in educational webinars around climate action, food security, and joining Facebook live streams to exchange knowledge with other people from other parts of the globe. I have deliberately chosen to keep checking up with my family, friends, and colleagues, because there is no climate justice without social justice, and keeping connected is part of the justice we seek to see. We are one humanity, and taking care of each other is one strong bond that cascades down to how we deal with the rest of creation and the one planet we all got to protect. This gives me more confidence to keep going.
Writing is one of my best things to do. I spend some time writing for my blog, Green Treasures Farms, as well as reading articles and other published content about nature & the climate.
Finally, I have learned important bits to keep me healthy for my climate justice journey. Taking time to myself and relaxing, making sure to pause for an hour or two has really helped improve my mental health. I do yoga, listen to the rains, cook, and just laugh and detach from social media for a moment. Part of the results is that I have worked with my younger brother to expand my kitchen garden. We made a vertical garden from scratch and this was so fulfilling. Now I can grow more organic vegetables and herbs,  and reach out to my neighbors to try setting up such a structure!????
Below are some of the photos showing the making of my new vertical kitchen garden in my family's city house:
Those are some of the little things I have been doing to take action for climate justice and for Just Recovery. Quoting from my icon, Prof. Wangari Maathai, "It is the little things that citizens do that make the big difference." My little thing is giving nature a voice, what is yours?
To the leaders, I wish to remind you that the Earth's resources are only enough for everyone's need, but not enough for everyone's greed! We cannot afford to go back to "normal" systems that were before this pandemic, based and rooted in historical, environmental, social, and political injustices. Now is the time to rethink leadership and a new sustainable model of inclusive and fair development pathways for all.
Wake up, tame your insatiable appetites against nature. Invest in nature-first and community-first initiatives for the sustainable future we all are pushing for. A new, inclusive, just world is so possible! But not unless you play your parts with truth, love, and kindness. Be the Hummingbird, Do your little thing!